Wholesale Palm Trees in Celebration, Florida
Have you ever wondered why those enticing vacation brochures featuring crystal clear blue waters and seemingly endless beaches of white sand always feature that beautiful evergreen palm tree? How many times have you chosen a vacation destination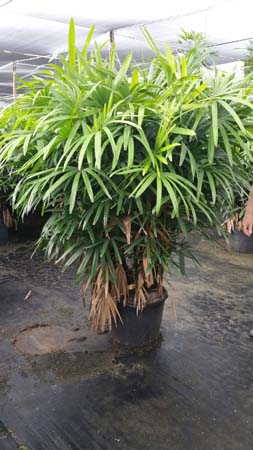 based on that picture? Well, that is the magic of palm trees!
You can now bring in that exotic look to your home by planting a palm tree. There are plenty of palm types that are suited for specific climatic conditions. Celebration, Florida is an excellent location for many types of palms because of Florida's tropical environment. There are so many trees to choose from, it is important to know what varieties are best suited for your purposes based on the climate, length of the plant, and whether it is for indoor or outdoor purposes.
Container Palms
Yes, palms can be planted in containers too! These are the smaller types, which do not do well in the winter but are beautiful in the summer. The containers allow you to get them indoors in the winter and keep them outdoors in the summer so that you get to enjoy them all year round! Some of these varieties include, but not limited to:
· Dwarf Palmetto King Sage
· Fishtail
· Lady palms
· Pygmy date
· Bottle
· Butterfly
· Lady palms
· Ruffled fan palm
· Thatch palm
Fan Leaved Palm Trees
If your main intention is to enhance curb appeal with something unique, then the fan leaved palms are definitely what you need. These palmate shaped trees come in a variety of sizes perfect for the yard and are mostly winter resistant. Some of the most common ones include
· Needle palm
· Mediterranean palm
· Blue needle palm
· Mexican, California and Chinese fan varieties
· Saw palmetto
· Diamond palm
Feather Leaved Palm Trees
These pinnate shaped palms bring about a uniqueness to them that is simply appealing. They are more suited for warm weathers, and they include:
· Parlor palm
· Date palms
· Foxtail
· Queen palm
· Canary Island
· Bamboo palm
· Chilean wine palm
Fruit producing (edible) Palms
Are you interested in a palm tree that bears edible fruits in addition to beautifying your landscape? Well, here are the most common varieties that will give you a constant supply of fresh fruits.
· Coconut
· Saw palmetto
· Date palm
· Pindo
· Oil palm
Why Should You Choose Palm Trees?
Since time immemorial, palms have been used to decorate gardens. Today, these trees are more than garden accessories. Here are some of the reasons why you should consider palm trees for your garden.
· A Delight to Non-Rakers
You need not rake as palms seasonally shed off foliage that is discarded
· Instant Tropical Landscape
The best part of the palm trees is that they transform any barren looking land into an irresistibly seductive oasis
· Low Maintenance
Palms do not need regular watering or gardening or copious amounts of nutrition
· Climate friendly
Palms survive in most climates and in almost all soil types
Now that you're ready to purchase wholesale palm trees, browse our online catalog for live specimens. Our website makes online ordering easy, fast and convenient. Once you've purchased the wholesale palms you desire, A Quality Plant offers only the best delivery options for your new palms. We are capable of shipping our wholesale palms throughout Florida and the southeast United States, and beyond, as we have shipping palms as far as Ontario, Canada and Vancouver, Washington.
If you live in Florida, A Quality Plant also offers our excellent landscaping services, making A Quality Plant your one stop online shop for quality wholesale palm trees. If you're looking for the full palm tree experience, from online purchase to delivery to installation, let A Quality Plant take care of it, contact us today!