Wholesale Palm Trees South Beach, Florida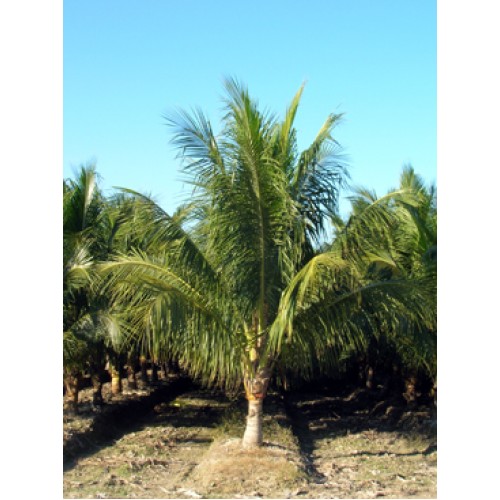 At A Quality Plant, we take pride in supplying high-quality wholesale palm trees in South Beach, Florida. Our trees are grown in our local Florida nursery to an exceptionally high standard.
Palm trees are a key part of the Florida landscape, as they thrive in hot, sunny climates. These majestic trees provide welcome shade from the hot sun, as well as being an attractive addition to any residential or commercial landscape. When you purchase wholesale palm trees from A Quality Plant, you can be sure that you are getting healthy trees that can live for many years in the right environment.
When purchasing wholesale palm trees in South Beach, Florida, it's essential to know which type of palm is most suitable for your landscape.
If you're looking for a majestic tree that measures up to 16 feet in height, the Bismark palm is a good choice. With a large crown of leaves spreading from a sturdy trunk, the Bismark palm grows quickly to create a canopy of more than 20 feet across. It's an excellent choice for creating a shady spot in any landscape.
If you're looking for small ornamental palms, rather than enormous trees, consider the Sago palm. This hardy plant isn't technically a palm tree; it's a cycad. Although the Sago palm doesn't grow into a full-sized tree, it still produces beautiful fronds. Originally from the Japanese Ryuku Islands, the Sago palm tolerates a wide range of growing conditions, which means it could be an excellent choice for any South Beach container garden.
These two beautiful trees are just two examples of the palms and cycads we stock at A Quality Plant. No matter how big or small your garden, we can provide a palm tree that fits perfectly into the landscape. Take a look at the other pages on our site to find out which palms are most suitable for your intended planting site, and don't hesitate to get in touch with us if you have any questions.
All the wholesale palm trees we supply are competitively priced, so you can afford to create beautiful, imaginative landscapes. For detailed pricing information, browse through the plants listed on our category pages. We think you'll be pleasantly surprised at how affordable wholesale palm trees can be.
Palm trees have long lifespans and can bring many years of joy. The key to creating a palm landscape that thrives over the long term is to begin by purchasing high-quality wholesale palm trees. South Beach, Florida gardens can look fantastic when you plant the right palms and care for them correctly. Not only do we offer a great selection of wholesale palm trees. If you're looking for the full landscaping experience, A Quality Plant offers our landscaping services to clients all over Florida.
Get in touch with A Quality Plant today to find your perfect palms!