Wholesale Palm Trees in Saint Augustine, Florida
If you want to improve your yard in Saint Augustine, Florida, why not consider buying wholesale palm trees from A Quality Plant?
We are a wholesale distributor. That means that instead of going to a retail store, you buy directly from us. We have our own certified plant nursery serving Saint Augustine, Florida, meaning that our trees are grown healthy in a tropical environment. We take great care of our trees and you can trust that they will be shipped to you in excellent condition. They won't be damaged by rowdy customers the way they can be in retail stores.
The other benefit to buying our wholesale palm trees instead of getting them at a retailer is that wholesale products can be cheaper. When you're buying from a retailer, you have to pay two groups of people: The manufacturer and the retailer. This drives the price up. By buying wholesale, you buy directly from the manufacturer and cut out the middle man.
There are plenty of reasons to buy from A Quality Plant.
Palm trees are a great addition to any yard. We have many different types of wholesale palm trees for you to choose from.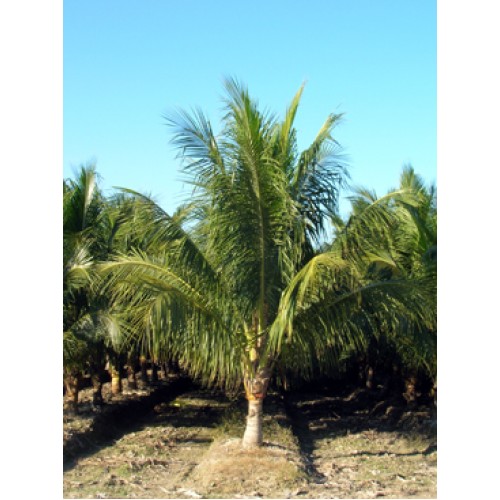 If you're into fresh tropical food, we have a few trees that are for you.
We have the Coconut Palm. Not only does this tree provide shade, it provides you and your family with fresh coconuts. Why buy coconuts that may be covered in pesticides and all sorts of other chemicals when you can grow your own right in your yard? You will know that your family is getting fresh quality food.
The Medjool Date Palm and Canary Island Date Palm also provide fresh dates. Dates are often unavailable at many non-tropical supermarkets. If you love exotic food, having a good conversation starter and a lot of shade in your front yard, our date palms might be for you. We carry date palm specimens in a wide range of sizes, depending on your landscaping needs.
These are only a small selection of quality palm trees we offer here at A Quality Plant. We have palm trees from Florida, the Caribbean, even Australia. We have trees in all shapes and sizes. Some are container sized. Others can grow really tall. We even have other tropical foliage like cycads!
Whether you want to have a piece of the tropics in your yard to relax, or to have fresh, homegrown food, A Quality Plant has perfect palm trees for your landscaping projects.
Now that you're ready to purchase wholesale palm trees, browse our online catalog for live specimens. Our website makes online ordering easy, fast and convenient. Once you've purchased the wholesale palms you desire, A Quality Plant offers only the best delivery options for your new palms. We are capable of shipping our wholesale palms throughout Florida and the southeast United States, and beyond, as we have shipping palms as far as Ontario, Canada and Vancouver, Washington.
If you live in Florida, A Quality Plant also offers our excellent landscaping services, making A Quality Plant your one stop online shop for quality wholesale palm trees. If you're looking for the full palm tree experience, from online purchase to delivery to installation, let A Quality Plant take care of it, contact us today!