Wholesale Palm Trees Lake Mary, Florida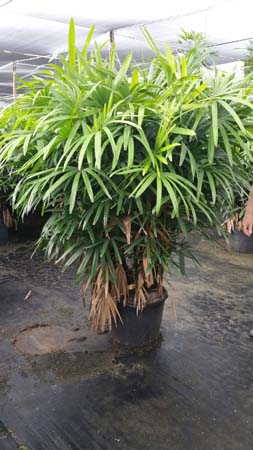 If you're in the market for palm trees that will enhance your landscaping and your home, you need go no further. You have arrived at the right place – A Quality Plant – where you will find the palm trees of your dreams, one that will suit your needs and your landscaping budget!
What is a lovelier sight than a copse of tall, graceful palms soaring toward the clouds -- or a cluster of smaller palms that elevate your landscaping to a whole new level?! Our wholesale palm trees simply cannot be beat for beauty, health and quality – and all at unbeatable prices. A Quality Plant is conveniently located close by Lake Mary, Florida, where you can casually browse through our wide-range of exquisite wholesale palm trees. Viewing these fabulous palms up close and personal will be an organic experience for you – you'll be able to sense which of the lovely palms are just right for you.
But our wholesale palm farm has no borders – our on-line business encompasses and serves the entire nation. The detailed descriptions on our website provide our customers with the vital information they need to make an informed decision about the best palm tree for them. Whether visiting our showroom or shopping on line, our experienced sales and service team is always on hand and has the expertise to answer any questions or concerns you may have about our palms.
PALM TREES – Premium Quality at Wholesale Prices
The benefits of purchasing wholesale palm trees from a distributor are numerous. First is obviously the cost. Because of our volume business, we are able to provide our customers with the highest quality palms at the lowest possible costs. Secondly, A Quality Plant is Florida's premiere wholesale plant tree distributor. Our inventory is comprised of a wide-range of palm tree varieties that is unrivaled among our competitors. A Quality Plant checks all the boxes – convenience, cost effectiveness, selection, expert advice and service after the sale. Unlike other wholesale palm tree farms we provide delivery and installation services to get your lovely new addition off to the best possible start!
If you're looking for a lovely palm to grace your front yard, the magnificent Bismarck palm may be just what you need. Or if you may opt for the clear-trunked Sylvester palm. Either palm will bring focus to your home and be the highlight of your landscaping and probably the star of your block! You may be looking for smaller palms to give new life to tired landscaping. The Dioon edule and the Sago Palm are smaller trees that will enhance your landscaping with their unique beauty and presence. A Quality Plant can provide the wholesale palm trees that will meet those needs.
Having a palm tree in your life is unlike having any other tree. A palm tree represents beauty, strength and the future.
"It is the nature of the strong heart, that like the palm tree it strives ever upwards when it is most burdened." ~ Phillip Sidney, 16th Century.
Now that you're ready to purchase wholesale palm trees, browse our online catalog for live specimens. Our website makes online ordering easy, fast and convenient. Once you've purchased the wholesale palms you desire, A Quality Plant offers only the best delivery options for your new palms. We are capable of shipping our wholesale palms throughout Florida and the southeast United States, and beyond, as we have shipping palms as far as Ontario, Canada and Vancouver, Washington.
If you live in Florida, A Quality Plant also offers our excellent landscaping services, making A Quality Plant your one stop online shop for quality wholesale palm trees. If you're looking for the full palm tree experience, from online purchase to delivery to installation, let A Quality Plant take care of it, contact us today!