Wholesale Palm Trees Eau Gallie, Florida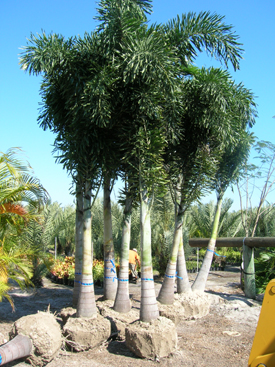 Palm trees belong to the family of perennial lianas, trees and shrubs. They are usually found in hot terrestrial climates. If you have ever seen a palm tree, chances are you saw a date palm or a coconut palm for they are the most well known of the palm trees. Although their spectrum is large with over 2600 species of the palm trees, usually found growing in subtropical, tropical and warm temperate climates. Their sheer beauty makes them one of the most planted family of trees. But why are the palm trees loved so much? What are the practical uses of palm trees?
For thousands of years, palm trees have been cultivated for the life giving nourishment they provide in the coconut and date. In addition to the well known coconut and date, palm wine is enjoyed by many people throughout the world!
Palms today are used primarily for their beauty and visual aesthetics. Landscapers, commercial contractors, and landscape supply retailers purchase palm trees at wholesale prices so they can incorporate them in their designs and work.
For your wholesale palm tree needs, we at A Quality Plant have dedicated ourselves to many years of research and careful selection which has led us to having one of the largest collection of palm trees in North America. We have the best irrigation systems and plant nutritionists to bring you a variety of healthy palms which will suit any of your landscaping needs, all available on a large scale purchase and wholesale, below are a sample of the wholesale palm trees we have available in Eau Gallie, Florida.
Christmas Palms are grown and often sold as their variants of single, double and triple formations. They are originally from the Philippines and they grow to an average height of between 15 and 20 feet. They are sometimes referred to as the the Dwarf Royal Palm.
The Areca Palm, is a popular indoor plant. The Areca offers beautiful indoor shade and adds to the air quality of an indoor setting by filtering the air and acting as a humidifier. Even though it is a popular indoor plant, the Areca still just as popular in outdoor settings.
At A Quality Plant, we offer specimens in various stages of growth, smaller container palms and larger, field grown outdoor palms, ready for your landscaping or indoor needs.
Now that you're ready to purchase wholesale palm trees, browse our online catalog for live specimens. Our website makes online ordering easy, fast and convenient. Once you've purchased the wholesale palms you desire, A Quality Plant offers only the best delivery options for your new palms. We are capable of shipping our wholesale palms throughout Florida and the southeast United States, and beyond, as we have shipping palms as far as Ontario, Canada and Vancouver, Washington.
A Quality Palm also offers our excellent landscaping services for customers living in Florida, making A Quality Plant your one stop online shop for quality wholesale palm trees. If you're looking for the full palm tree experience, from online purchase to delivery to installation, let A Quality Plant take care of it, contact us today!