Wholesale Palm Trees in Charleston, South Carolina
Palm trees are a type of flowering plant with approximately 2600 subspecies. They are distinguishable by their large evergreen leaves that grow from a stem with no branches. As they show considerable diversity from subspecies to subspecies, palm trees are able to survive in almost any climate from desert to rain forest but are more commonly found in hot to moderate temperatures and are thus seen to represent summer to those living in cooler climates.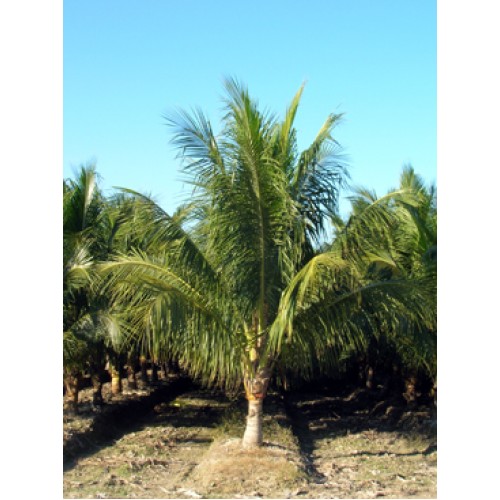 Because people have a tendency to associate palm trees with vacations and relaxing, it has become increasingly popular to grow palm trees in gardens.
If you are considering it for yourself, we would recommend you buy wholesale palm trees from A Quality Plant. Wholesale palm trees cost much less than you would buy them in a gardening center or other retailer as you are buying directly from the supplier instead of going through a middleman. You will also get a better service by choosing wholesale. If there is a problem you can contact A Quality Plant to remedy the issue directly instead of having to return it to a retailer first.

A Quality Plant's vast range of wholesale palm trees includes field grown palm trees, specimen palms, container palms, and even cycads, ensuring there is a type of palm tree available for any type of consumer. One of our most popular wholesale palm trees is Areca Palm, which grows to between 8-10'. It is incredibly popular throughout Florida and Landscape professionals throughout the state rely on us to supply them.
A smaller, but also popular choice of wholesale palm tree that we offer is the Sago Palm which comes all the way from the Japanese Ryukyu Islands. Its size makes it a convenient plant for smaller households and it is also incredibly adaptable which suits it to any temperature from temperate to tropical.
We also offer the Medjool Date Palm, known worldwide for its delicious dates that can be eaten or added to recipes like bread and cake. At A Quality Plant, we offer excellent Medjool Date Palm specimens at our excellent wholesale palm prices.
Now that you're ready to purchase wholesale palm trees, browse our online catalog for live specimens. Our website makes online ordering easy, fast and convenient. Once you've purchased the wholesale palms you desire, A Quality Plant offers only the best delivery options for your new palms. We are capable of shipping our wholesale palms throughout Florida and the southeast United States, and beyond, as we have shipping palms as far as Ontario, Canada and Vancouver, Washington.
For Florida residents, A Quality Plant also offers our excellent landscaping services, making A Quality Plant your one stop online shop for quality wholesale palm trees. If you're looking for the full palm tree experience, from online purchase to delivery to installation, let A Quality Plant take care of it, contact us today!