Wholesale Palms Orlando Florida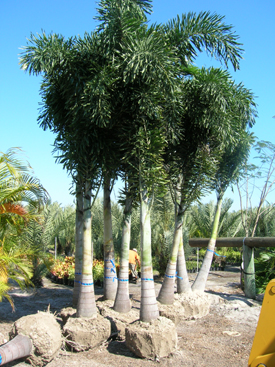 Palm trees are often connected to serene beaches under the scorching sun. The city of Orlando in Florida is a buzz with pleasant stretches of palm trees lining up the driveway. The enchanting palms are extensively grown in the length and breadth of peninsular Florida.

Luckily, Florida is endowed with climatic conditions apt for the steadfast growth of the palms. There are over 2,500 diverse classes of palm trees that dwell in the state.

They are planted at travel lounges, shopping malls and hospitals to amp up the aesthetic appeal of the place. Apart from adding an ornamental value, wholesale palms can be seen in botanical gardens for educational and scientific reasons.

At A Quality Plant we sell the best type of wholesale palms suitable for individual needs. Palm trees serve a multitude of purposes. We have multiple trunk palm trees meant for fencing your house or just to provide shade under a shelter. A gigantic single trunk palm in the center of your garden area is bound to grab all the eyeballs. We cultivate every possible type of wholesale palms fit for specific needs of the client.

One of the hot selling palm trees in A Quality Plant are the Bismarck Palms. The palmate arrangement on its leaves is in the shape of a fan. This characteristic outline gives the plant a striking appearance. The plant also carries its biological name, Bismarckia nobilis. These type of wholesale palms are an excellent option for rousing magic in a landscape.

Another type of leaf formation is the wing like pinnate pattern. Queen Palm which bears the scientific name Syagrus romanzoffiana features feather like leaves. These graceful wholesale palms are a crowd favourite. It is widely popular as it is low on maintenance and light on the pockets too.

At A Quality Plant, we ensure tender saplings are planted in a painstaking manner. Utmost care is taken during the processes of planting, cutting and trimming. State of the art techniques are used for watering the wholesale palms. We feed the palms with purely organic and nutrient rich fertilisers. To save the plants from extreme climatic conditions like snowing, advanced methods of cold protection are employed.

Testimonials by our loyal customers is proof to the trust they have in our unmatched service. We have an able network of wholesale palm distributors to transport scores of plants all across North America. Our full-fledged nursery houses a bulk of home grown species native to Florida. Be guaranteed of healthy wholesale palms, thanks to our dedicated efforts by skilled experts.