Wholesale Palms for Coral Springs Florida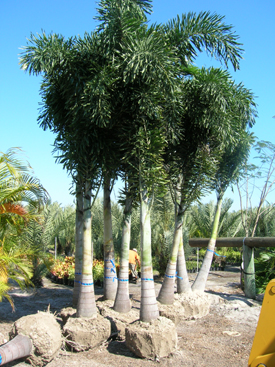 The city of Coral Springs in Florida is developing fast because of the low crime rate and excellent quality of life. Hence many residential and commercial properties are being developed. Palm trees are used extensively for landscaping in Florida since they require less maintenance and are suitable for the weather conditions in the state. Builders and landscapers who require Coral Springs Palms Wholesale should contact A Quality Plant, one of the most reputed wholesale palm sellers in Florida. The palm tree wholesaler is stocking a large number of palms of different varieties and sizes to suit the landscaping requirement for different properties.

One of the considerations while choosing Florida wholesale palms is the budget of the property owner. If the property owner has a limited budget they can opt for inexpensive palm trees like the Christmas Palm, Washington Palm or Sabal Palm. These palm trees typically cost less than $90 for the smaller sizes and have a single trunk. These are low maintenance plants, and take up less space on the ground. The Sabal palm is native to North America and is the state tree of Florida. It is the most commonly grown palm tree in Florida. It is a very hardy tree, which will flourish in all soil conditions, including wet soils. It can also withstand windy weather conditions and will not topple over when the wind speeds are high.

Though the elegant Royal palm can regenerate itself if damaged by the stormy weather and used for lining the streets, it is fairly expensive.

Many of the buyers of wholesale palms Florida are interested in purchasing palms for landscaping purposes, for fencing and providing privacy in some areas. The areca palm is one of the most popular palms for fencing, since it is rugged and inexpensive. It is also wind resistant, and will usually survive high wind speeds. We will be happy to provide free advice on choosing the right wholesale palms for Coral Springs Florida based on the exact location, size and other aspects of the property being developed. Please contact us during business hours for more information.