Wholesale Palm Trees For Sale - Naples, Florida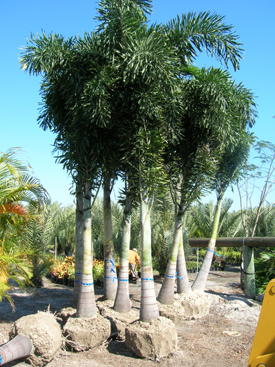 Looking for wholesale palm trees in Naples, Florida? Look no further. At Quality Palms, we stock a wide selection of beautiful palms for your landscaping needs. We sell young palms and mature palms alike, giving you the opportunity to watch a fantastic Medjool date palm mature from a tiny sapling into a massive 18-foot beauty, or letting you instantly enjoy the full glory of a mature tree. The choice is yours.
Elevate Your Landscape
Nothing connotes luxury and relaxation quite like A Quality Plant Palm Trees. Bring the life of luxury to your property with our quality collection of palm specimens, ranging from Canary Island date palms to pineapple palms and more. Whether you're landscaping the residential property, hotels, or recreational courses, your clients will appreciate the unparalleled experience of lounging underneath the wide arching leaves of a 36-foot Reclinata palm.
Wholesale Direct Palm Tree Nursery
We ship our palms directly to you for your convenience with our Wholesale Direct sales program. Our massive selection of Medjools, Reclinadas, hybrids, date palms, and cycads means that whatever specific vision you have for your landscape, we can fulfil it. And our wholesale availability means that even if you have a huge property to landscape, we can fill your order at a competitive price.
Choosing the Best Palm for You Reclinata Palms
Our Reclinata selection ranges from 16 to 32 feet in height. This classic looking tree features a slender, reaching trunk with delicate, yet dense leaves that seem to reach for miles. These palms excel in Zone 9 tropical to temperate climates.
Medjool Palms
We sell beautiful ornamental Medjools ranging from 10 to 12 feet in height, with upward-reaching, blue-green leaves and a thin, handsomely-colored trunk. These hardy date palms survive cold weather and do great alongside the ocean due to their tolerance of salty or brackish conditions.
Hybrids Palms
Choose from our fantastic selection of hybrid date palms, ranging from Sylvester-Reclinata crosses to Canary Island-Sylvester crosses and more. These truly unique trees set off your landscape with their one-of-a-kind feature combinations.
Canary Island Palms
These palms originate from the islands of the same name, and our selection ranges from 6 feet to 24 feet high. Their pineapple-shaped crown and sub-tropical nature make them a great choice for ornamentation in warm, humid climates.
Cycad Palms
While not true palms, cycads make a beautiful addition to tropical landscapes with their low growth profile and thick, rich green leaves. At Quality Palms, we offer a selection of cardboard palms and sago palms, both known for their hardiness and tolerance of a wide range of conditions.
Contact A Quality Plant for Wholesale Palm Trees in Naples, Florida
If you're looking for wholesale palm trees in Naples, Florida to complete your landscape project, don't hesitate to check out our selection. We're available for questions anytime you need via our Contact Us page.