Wholesale Palm Trees Palmetto Florida
A Quality Plant
is a tree nursery that provides exactly the right products and services for superior and beautiful landscaping for commercial and private landscapes. We specialize in wholesale palm trees in Palmetto, Florida. We are a passionate palm tree and tropical foliage distributor, raising the best Florida grown palm trees available. Our plants and trees are beautifying the natural landscapes of communities in and around Florida and throughout the entire United States.
The palm tree is a symbol of the tropical coasts of America bringing to mind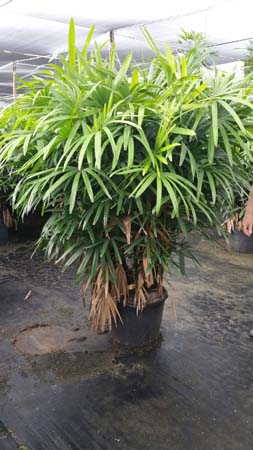 natural luxury, the beach and the ocean. Not only an attractive looking plant, palm trees can also be a beneficial food source depending on the type. Coconuts, dates and acai berries are some of the most common, edible fruit from palm trees.
There are an abundance of sizes, shapes, colors, and textures of palm trees suitable for any space.
The Sabal Palm is Florida's state symbol and we pride ourselves in offering this colder-climate palm tree to less-tropical locations wanting to showcase this specimen. We do have a variety of wholesale palm trees available for many climates and ship all across North America. Growing local Florida palm species and other imported varieties gives our customers a range of options to suit the needs specific to their location and landscaping requirements.
From luscious Areca, Bismark and Chinese fan container palms to Alexander and Coconut-green Malayan palms, with some trees reaching more than forty feet, we have the most diverse selection of wholesale palm trees in Florida. The palm leaves themselves range in length and color including green, brown, bright red and bronze. Having high drought tolerance, these elegant trees with many different shapes and sizes are easy to grow and require little maintenance and tolerate a lot of soil conditions.
At Quality Plant, our Palms are sold at some of the most competitive prices, as our customers benefit from our wholesale prices. A Quality Plant has built a solid reputation for our quality palms and cycads. Our high quality palms are raised in well maintained nurseries, providing our customers with only the best quality trees. Whether you're a commercial landscaper, a small business owner, or a a homeowner looking to spruce up your home landscape, A Quality Plant has the best palms for you, at the best prices.
Now that you're ready to purchase wholesale palm trees, browse our online catalog for live specimens. Our website makes online ordering easy, fast and convenient. Once you've purchased the wholesale palms you desire, A Quality Plant offers only the best delivery options for your new palms. We are capable of shipping our wholesale palms throughout Florida and the southeast United States, and beyond, as we have shipping palms as far as Ontario, Canada and Vancouver, Washington.
If you live in Florida, A Quality Plant also offers our excellent landscaping services, making A Quality Plant your one stop online shop for quality wholesale palm trees.