Silver Buttonwood Hedge For Sale in Florida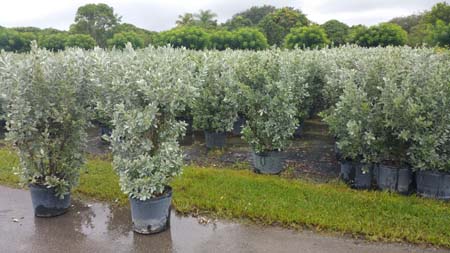 Many people have realized the benefit of using A Quality Plant for wholesale palm trees However, you can also buy other beautiful forms of greenery from us. We give you the kind of options that you can enjoy for landscapes and hedging in Florida and surrounding areas. We are the agents of change when that gives you the plant quality you need. We sell primarily in Florida but also to the surrounding states so you can be sure to get the high quality plants you need from us. You can view our selection ofbeautiful Silver buttonwood on our website.
Landscaping With Silver Buttonwood Hedges

The Silver buttonwood is one of the many hedges you can use for your landscaping needs. This is a hedge that is appealing for a number of reasons. One of the reasons that it's popular with users is that it has a unique sheen to it with silvery leaves. It looks particularly striking when it is combined with flowering hedges. It also grows in a unique vase shape. Individuals frequently use the hedge form of this plant to provide a striking border around their property. You can get the Silver buttonwood from A Quality Plant including other options you might need. Get this quality hedge from us at A Quality Plant and enjoy the many choices for buying hedges that will provide protection and stand out from the surroundings to create a pleasant barrier.
Where To Buy Silver buttonwood Hedges In Florida
You can find all the hedges you need when you shop at A Quality Plant. We can give the type of hedges and trees that you need to show off your property. Silver Buttonwood does come in a tree form but many like it as a hedge. This is the perfect hedge to use when you want some color contrast among your greenery. You can buy this and more from us at aqualityplant.com. We specialize in wholesale palm trees but also provide hedges of various types including the silver buttonwood .