Wholesale Palm Trees Sarasota, Florida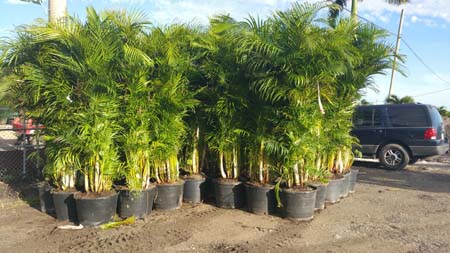 Imagine an amazing, beautiful tropical landscape right in your back yard.. Imagine how refreshing and inspirational it would be just to look at it every morning.. Doesn't it sound alluring? Doesn't it sound like what you secretly wanted all this time? Best of all, you can make it real! The answer is simple: the palm tree, the king of all tropical plants.
You don't have to go to a faraway tropical island to enjoy the atmosphere of an exotic palm beach. A myriad of different palm trees of all sizes and shapes and shades - all of it is available to you at A Quality Plant servicing in Sarasota. And if you still have any doubts about getting a palm tree, this huge selection is sure to change your mind!
Palm trees are gorgeous, they create an amazing atmosphere. They're a perfect fit for literally any landscape project. Be it an office building, a community area or your own backyard, a palm tree is always going to stick out and impress everyone with its splendor. Just look at how different and unique they all are: both large and small, thin and think, affordable and extravagant. And here is this amazing option to buy palm trees in Sarasota from a reputable wholesale supplier!
But what palm tree would you really need? Everyone has peculiar needs for their very special landscapes. And a good palm tree can make any landscape unique. There's absolutely no doubt that at A Quality Plant you can find exactly what you need! The choice is really huge. All stock is fresh and properly cared for, it's the finest quality palms you can get in all of Sarasota, Florida, and you have the great advantage of getting it wholesale.
Field grown palms that you can find in the catalog are an example of great diversity. They come in so many sizes and variations that it almost captivates your imagination! And as an alternative option,
A Quality Plant also offers fine container palms ready for planting immediately.
Specimen palms are the real gems. They're the only ones to bear the proud status of Specimen. That means, they're the most perfectly colored, symmetrically shaped palm trees of all - real tropical majesty. But they really need a new home where they can demonstrate their nobility and grandeur. Don't hesitate to get yourself one as soon as possible. Feel free to contact A Quality Plant and have all your questions answered straight away!
Always at your service,
A Quality Plant - Providing Wholesale Palm Trees Sarasota, Florida