Wholesale Palm Trees Orange Park, Florida
Orange, Park Florida Wholesale Palm Trees For Sale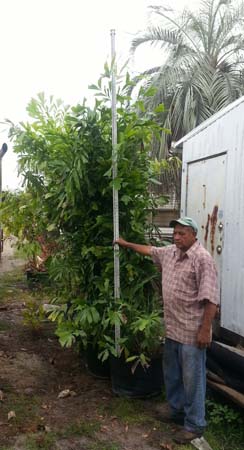 Are you looking to purchase palm trees at wholesale prices? You've come to the right place. Located in Ruskin, Florida, nestled against the Little Manatee River on Tampa Bay's south shore, A Quality Plant offers a wide selection of the over 2,500 palm tree species in the world. These wonderfully diverse plants bestow a low maintenance instant oasis. The hardy palm has no leaves to rake, doesn't require fertilizer, and grows well in most soil types. Palm trees are symbols of victory, peace and fertility. Florida palm trees are associated with white beaches and a sun-filled relaxed lifestyle. Plant a palm-filled haven and enjoy your own tropical paradise.
Palm Trees For Sale For Orange Park, Florida Landscaping
A Quality Plant has a huge selection of palm trees for sell at affordable prices available to Orange Park, Florida. One of the most popular palm tree is the Sabal or Cabbage Palm. This is one of the ultimate palms for subtropical areas. This species of palm has a distinctive fan with yellowish-white flowers. The cabbage-like new frond hearts taste something like artichoke or cabbage hearts and give the plant its name. Storm-proof and resistant to heat and cold, it looks great and is just $89.00. The Washington Robusta or Mexican Fan Palm is the slimmer and taller of the two Washingtonia species. An excellent street-side tree, this fast growing palm is slightly less cold-hardy than the closely related California Fan Palm (Washingtonia filifera) and generally too tall for typical residential landscapes. With a reasonable $105.00 price tag, it's perfect for commercial or community landscaping. The Canary Island Date Palm owns a dense crown of arching fronds and diamond patterned trunk that flows into an instantly recognizable shape. This palm tree's easily identified crown is generally pruned into a pineapple shape. In the Canary Islands, palm honey, an edible syrup, is made from the sap of the date palm. The sweet sap can also be used to make Palm wine which is common to various parts of Asia, Africa and the Caribbean. The imposing Canary Island Date Palm is the center of attention wherever planted. Purchase this perfect garden centerpiece for a moderate wholesale price of $250.00.
Do you need something that will grow well indoors and adds a tropical flavor to your interior? With the proper care the Sago Palm will grow into exotic beauties. The highly ornamental Sago palm, originating in Japan, is a great potted alternative. Easy to care for, the Sago doesn't tolerate over-watering and prefers well-drained soil. For a low $35 wholesale price, purchase a couple to brighten the corners of your house or office. Another great option is the Foxtail Palm. After its introduction by an Aboriginal man in 1978, the Foxtail palm tree became the most popular landscape palm in the world. This very durable tree tolerates a variety of soil conditions, rarely grows more than 30 feet and seldom needs pruning so it's highly prized in landscape design. Although it's a more exotic indoor plant, the Foxtail palm can still flourish in an indoor space. Place it near a window and enjoy the lush green leaves and white flowers at a low $65.00 wholesale. Whatever your need, we grow the finest wholesale palm trees available to Orange Park, Florida. That's why we're A Quality Plant.