Wholesale Palm Trees Green Cove Springs, Florida
Palm trees offer your landscape charisma and beauty that few plants can.
More and more people are planting palms near their homes due to the many benefits and diverse species that are available to them. A Quality Plant offers the best wholesale palm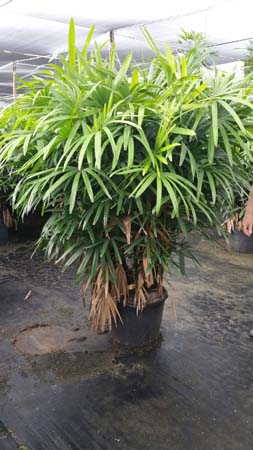 trees in Green Cove Springs, Florida. Florida is a very favorable area for the lovers of Palm trees due to its good sun exposure and the warm temperatures we experience in this area.

There are many benefits that you will get from adding palm trees to their landscaping such as increased property value.Palm trees also provide shade you with shade and reduce the air temperature drastically by simply blocking the hot sun rays which further cools when the water evaporates from the palm trees leaves. The shade from the palm trees protect the hard surface areas such as patios, buildings, driveways and sidewalks and hence minimizing the heat overload of the landscape. Palm trees are also very beautiful and they really increase the curb appeal of the landscape. The trees increase the attractiveness of your yard or commercial property, adding that tropical feel to your landscape. Palm trees are also very low maintenance.

At A Quality Plant we have a diverse collection of Wholesale Palm Trees to offer Green Cove Springs, Florida.
Whether you're looking for a small container grown plant, or a fully grown specimen, A Quality Plant has a great range of choices at excellent wholesale prices!
With its slender green trunk, and luxuriously long fronds, the Areca Palm is a lovely indoor palm. The Areca not only thrives indoors, the versatile palm can also act as an air filter and humidifier for indoor spaces. Of course, the Areca also thrives outdoors nicely as a medium sized palm tree that is excellent for hedging. At A Quality Plant, we offer the Areca in a range of sizes from potted to field grown.
In the small to mid sized range, the Christmas Palm is another popular species that works well in pairs and other formations. With its gray trunk, lush green crown shaft, and long fronds, the small size of the Christmas Palm makes it an excellent choice for outdoor enclosures like your pool or patio, lining exterior walkways.
When it comes to larger landscaping palms, A Quality Plant has an excellent selection of date palms to choose from. The Canary Island Date Palm, and the Medjool Date palm are instantly recognizable tropical palms which thrive in dry and tropical environments. With a thick trunk and long fronds, the Canary Island Date Palm is also called the Pineapple Palm, because it looks like a pineapple when trimmed. The Medjool Date palm is another popular choice with its spiky bluish leaves, this robust palm is drought resistant, salt resistant and very hardy. Not only will you benefit from the beauty of these date palms, but as the name implies the palm trees will gift you with their delicious dates, a food eaten all over the world!
These are just a few examples of the wholesale palm trees you'll find at A Quality Plant. Not only will you be impressed with our variety and selections, we also offer our expertise. Not all palm trees are the same when it comes to weather resistance and maintenance. At A Quality Plant, we'll make sure you know which palms are right for your environment and landscaping needs.
Now that you're ready to purchase wholesale palm trees, browse our online catalog for live specimens. Our website makes online ordering easy, fast and convenient. Once you've purchased the wholesale palms you desire, A Quality Plant offers only the best delivery options for your new palms. We are capable of shipping our wholesale palms throughout Florida and the southeast United States, and beyond, as we have shipping palms as far as Ontario, Canada and Vancouver, Washington.
If you live in Florida, A Quality Plant also offers our excellent landscaping services, making A Quality Plant your one stop online shop for quality wholesale palm trees. If you're looking for the full palm tree experience, from online purchase to delivery to installation, let A Quality Plant take care of it, contact us today!