How to Care For Your Areca Palm Tree Hedges In Florida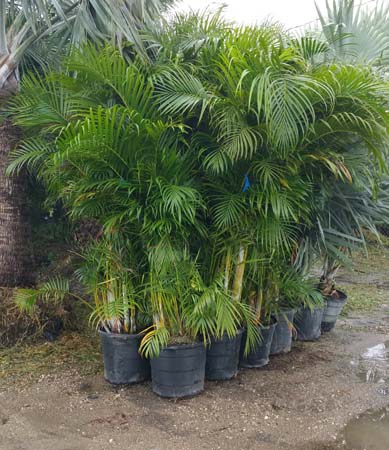 More than a thousand palm trees varieties are found in theUnited States, and the state of Florida has the largest collection of palmtrees. Many of these trees are sold in the market as tiny seedlings, pottedplant and even fully-grown trees that are ready for transplanting.
It is of great importance, therefore, to source your palm trees from reliable vendors. Among the notable suppliers is A Quality Plant, a palm tree wholesaler based out of Ruskin, Florida. We supply our customers with a great variety of palm trees to plant in their yards, gardens or create hedges around their properties.
Palm trees make excellent hedges, and the Areca palm variety is quite popular with property in Florida. Although many nurseries have Areca palm hedge for sale in Florida, property owners need to exercise caution when making a purchase.
Also known as, the golden can palm, the Areca palm is one of the most popular indoor palms in the world. Additionally, the small size of this elegant tree makes it an ideal plant for creating live hedges around properties.
It is highly popular with many Florida homeowners due to its densely clustering palms, yellow crown shafts, and curved leaves. Additionally,it is mid-sized, which means it requires relatively small growing spaces such that available between properties.
At A quality Plant, we recommend that customers adhere tot he four aspects of palm tree care to ensure that it grows to an elegant mature hedge. Palm tree care comprises of planting process, watering, fertilizer application, and cold protection.
Planting Areca Palm Tree Hedges
It is important that you acclimatize your Areca palm to minimize the transplant shock before planting it. You should leave as much soil surrounding the roots as possible and should not trim the palm tree's root.Never apply fertilizer immediately after transplanting as this stresses the tree further. Apply fertilizer one or two months after transplanting, when the new roots start to develop.
Watering Areca Palm Tree Hedges
Unlike desert plants, palm trees thrive in warm moist,well-drained soils. Always use good quality soils that provides good drainage and absorbs water. Water the newly transplanted palm tree regularly and make sure the soil has good drainage. Poor drainage leads the roots system to rot and the eventual death of the Areca hedge.
Areca Palm Tree Hedge Fertilizers
Using good quality fertilizers as they provide all the necessary nutrients during the growing phase – foliage and roots. Healthy trees comfortably survive the unexpected cold winter snaps. Be careful, though, too much fertilizer can burn the roots and weaken the growing palm hedge.
Winter Protecting your Hedges In Florida
Tropical climates often experience cold snaps during winter and most palm trees experience cold damage. It is of paramount importance to protect the palm trees bud from the cold because if it suffers damage, the treeis likely to die. The most convenient measure to prevent such damage is to spray your palm trees with anti-freeze formulations. These eco-friendly products significantly improve the palm tree's ability to withstand the cold season.
Of the many nurseries that have Areca palm hedge for sale in Florida, homeowners show a great appreciation of the services they receive at A Quality Plant as well as the affordable pricing.