Georgia Wholesale Palm Trees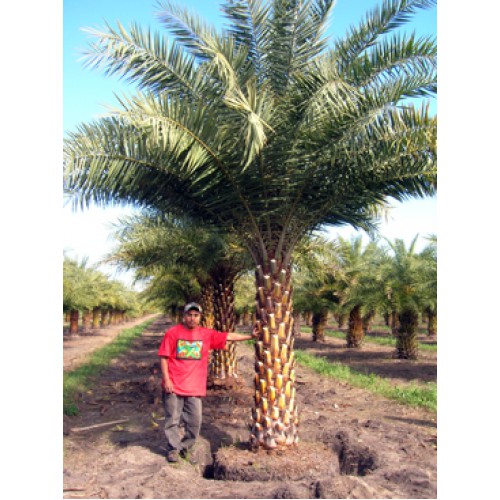 Palm trees, commonly associated with the State of Florida, are often a great asset to property owners across the vaunted Sunshine State' can also thrive and provide an exotic landscape in other areas of the Southeast such as Georgia. When creatively planted, these graceful and evergreen tree improve the quality of life as well as substantially boost the value of these properties. As the choice of wholesale palm trees for Georgia residents and businesses we consider ourselves a valuable asset to improving the landscaping of property all around Georgia. At aqualityplant.com, we offer high quality and affordable palm trees to Georgia residents seeking to create a greener atmosphere around their properties.
Among the most popular palm varieties with Georgia residents include the Sabal Palmetto, the official tree for Florida, is also a popular palm tree in Georgia landscapes (6-20' clear trunk at $89), the pineapple Palm ($75/ft of trunk) and the Queen Palm (8-12' grey trunk at $225). These palm tree varieties, sourced from our wholesale palm tree farm serve a wide variety of purpose in Georgia landscaping. They are seen adorning gardens, yards, lining up driveways and swimming pools throughout Georgia communities.
Exotic palms such as the Chinese fan are often found lending their elegant demeanor to the creating curb appeal in a great majority of homes in Georgia. There are instrumental in creating a homely atmosphere for you and your family. The great variety available from aqualityplant.com makes sure that your patios and terraces make positive as well as fashionable statements about your taste in décor. The container palm varieties are especially handy for people who are space limited or live in an apartment building. The are also convenient for people seeking to spruce the various rooms in their houses with unique shapes and colors.
Patio gardens, in addition to creating a peaceful refuge from the hot Georgia weather also afford families an opportunity to enjoy home cooked meals in in the ideal tropical setting; transforming every meal into a great family experience. Listen to the a symphony of whispering palm and singing birds as you get some work done in your magnificent garden, ringed with various plants sourced from Georgia wholesale palm tree suppliers and getrevitalized by the power of nature.
Palm tree, a multifaceted asset for Georgia Communities
Fast-growing varieties such as the Washingtonia palms make an excellent choice boundary demarcating trees as well as ensuring privacy. Palm trees, unlike other trees, allow undergrowth and thus plant lovers can include a great variety of plants or even other palm varieties as part of their live fence. Foxtail palms, also available from wholesale palm trees Georgia area suppliers, also make great live fences as well as lining up driveways or streets. Palm trees also act as wind breaks in properties located in windy areas as such prevent or minimize the level of damages that could have been inflicted on your property by high winds.
In addition to their relatively easy maintenance, palm trees confer a myriad of environmental benefits when planted in large number. Like other trees, palm trees reduce air pollution, regulate ambient air temperature, prevent soil erosion, increase precipitation, and increase oxygen content in the air. Planting palm trees, hence improves the quality of life over and above the measurable benefits.