Georgia Podocarpus Hedges For Sale
Podocarpus Hedge for Sale In Georgia
Are you an individual or business that wants to purchase various types of quality palms and hedges? A Quality Plant can provide all of your landscaping needs. There are many options you can be looking forward to when buying our plants for your Florida landscape. Quality landscaping is great way to enhance your property value and appeal. Hedges are extremely helpful for creating barriers around a property. A privacy hedge is something that will benefit your home or business. It could be the perfect option that you need to dress up your property and provide a security barrier for it. We are a wholesale Palm grower company located in Ruskin Florida. We provide a wide variety of palms for you to choose from. Pick A Quality Plant to make your landscaping look amazing.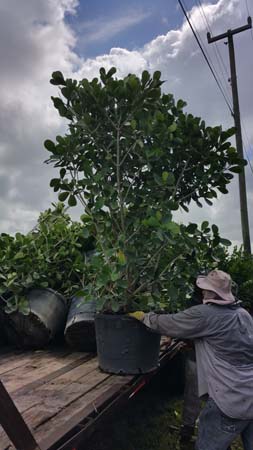 You will find all the hedges and plant options you need at A Quality Plant located in Ruskin Florida. This is the one stop shop place for your various plants and palm trees for Georgia. We are simply the best at what we do and provide all the quality options you need. We have a tradition of serving Southern Florida as quality dealers of palms and will leave no stone unturned to give you the exact options you need. We have several varieties of hedges and palms for you to choose from. Among some of the varieties are Podocarpus hedge from a Quality Plant. We are a landscaping firm that has the best palms and plants available to Georgia. We operate out of Florida but can also deliver to nearby states.
Our Selection Of Podocarpus Hedges Available To Georgia
A Podocapus hedge is beautiful and hardy and can make an amazing fixture for any establishment commercial or residential. It might be one of the things that you need to take your property to the next level. The Podocarpus has gorgeous fine textured fronds and makes an excellent hedge or a privacy fence. It's one of the options you can take advantage of for you landscaping. This hedge comes in two varieties. This would be a dwarf Podocarpus that is a basic hedge or a tree variety of the shrub that is willowy. Check A Quality Plant located on the web at aqualityplant.com. We are the landscapers in Florida who have the types of plants and landscaping options you will be looking for. They have some of the quality palms and plants you may be able to use on your property including the popular Podocarupus Hedge.
Maintaining A Healthy Podocarpus Hedge In Georgia
Try a healthy and hardy Podocarpus hedge from your friends at A Quality Plant. We can give you a amazing and vibrant addition for your property. It might be the one thing you need to make your property complete. Your are buying the best in landscaping when you choose to use A Quality Plant for your landscape.