Gainesville Florida Palm Tree Nursery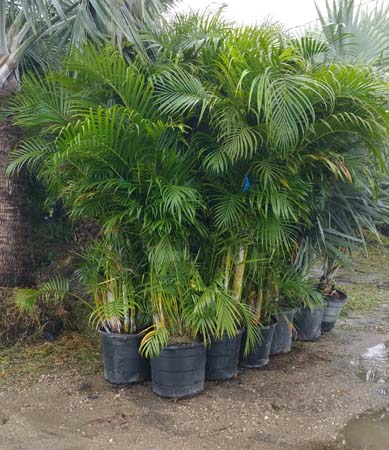 Have you been wondering how to make your landscape or property stand out? At A Quality Plant, we offer you affordable palm trees at wholesale prices to suit your needs, readily available to Gainesville, Florida customers direct from our palm tree nursery.
Walk across the streets, business premises, and amazing compounds and you will see these ornamental plants. Their beauty is unmatched.

That's why A Quality Plant has made sure that it will cater to all your needs and preferences by having a Gainesville Florida palm tree nursery that is tailored
to your needs.
You might have some doubts whether it is easy to grow palm trees in North Florida. You need not worry anymore, we got you covered.
Is Florida Gainesville's Climate Conducive For palm Trees
The climate is conducive for palm tree growing. The area experiences warm humid tropical climate with no dry season.
During the warm season (May to September), the rains are moderate, while from December to February (the cold season), they are light with temperatures at or above 42oF.
However, in some years there have been records of snow, in 2010, 1996 and 1989, and low temperatures with a record low of 6oF in 1899 February 13th.
The Significance of Climate
Understanding climate makes it easy for A Quality Plant to provide you with environment friendly palm tree.
As the area has been categorized as hardiness zone 8b and 9a according to USDA, we make sure that we provide you with some varieties of cold tolerant palm trees at our Florida palm tree nursery.
Some of palm tree species we grow at A Quality Plant can tolerate extremely low temperatures and due to that, they are commonly referred as cold-hardy palms.
A Quality Plant Cold Hard Palms
Washington Palm
This type of palm tree is very distinctive with its thin brown cross-hatched bark, which falls off to expose its tender ringed trunk, and has beautiful bright green fronds. Can grow in all areas of Florida and survive extremely low temperature of 18oF. They are conducive for streets and highway growing or yards where height is not a problem as they can grow to heights of 70 to 100 feet.
Canary Island Date Palm/Pineapple Palm
This palm is a beauty and needs to be frequently trimmed and pruned to preserve its aesthetic value. It can reach heights of 40 to 50 feet and spreads out like a pineapple with a massive canopy. Thus, it requires some space to effectively grow. It originates from the Canary Islands and grows slowly with ability to survive low temperatures of 15oF to 18oF.
Jelly or Pindo Palms
This is a South American palm species and stands out with its blue-green palm leaves that spread out from its smooth trunk nearly touching the ground. It grows gracefully to an average height of 15 feet and 10 feet wide and needs some pruning to maintain its beauty. This wind resistance palm can survive in extremely low temperatures of 5oF.
We welcome you at A Quality Plant we serve Gainesville Florida with our Florida palm tree nursery to have a wide array of unmatched cold hardy palm trees that thrive in Gainesville, Newberry, Micanopy, Alachua, La Crosse, High springs and throughout North Florida.
For more inquiries, we are a call away; your satisfaction is our priority.