Fishtail Palm Hedge For Sale In Florida
Fishtail Palm Hedges For Sale In Florida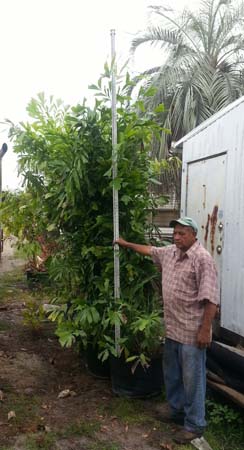 Those who choose to do their shopping either online or in person at A Quality Plant will find a number of great palms, hedges and different types of tropical foliage for sale. One of the types of hedges that can be obtained from us at A Quality Plant is the so called Fishtail Palm hedge. This is a hedge that is very thick and is ideal for blocking traffic or nosy neighbors from your property. They have thick leaves and have an overall draping effect which make them ideal for those who are looking for a suitable cover for their property. Those who want to find the Fishtail Palm hedges in Florida will find the choices they need when they choose to shop at A Quality plant, located on the web at aqualityplant.com. We are the experts in all things tropical including hedges. We can be of great benefit when you choosing the tropical tree or hedge to use and depend on for quality.
Where to Buy Fishtail Palm Hedges
We at A Quality Plant can help you find the plants and palms you need to act as a barrier around the perimeter of your landscape and other specialized options you might need. Fishtail Palm hedges are one of the best and most affordable ways to keep your setting private and their unique look is what makes them popular in Florida. For those who want hedges and have a concern about privacy will enjoy using these on their property
We at A Quality Plant know how important your landscaping and hedges are to you. That is why we spare no expense to properly care for the greenery you will be putting into use on your property. We provide many hedges and trees you can use when you are looking to protect your property or enact a barrier. We care for everything from palm trees to Fishtail Palm hedges and make certain that we are giving you our best work when it comes to plants and hedges that surround your area. We leave no detail out when it comes to quality care of the plants, hedges or trees that will be a part of your property.
Making The Most Of Fishtail Palm Hedges In Your Florida Landscape
You need to make sure that you get the fishtail hedges that will serve best on your premises and to get the hedges with the best look for your property. You can count on the professionals at A Quality Plant to achieve this. We are the developers and landscaping experts to choose when you are looking for greenery to use around your home or business property.