Christmas Palms / Adonidia merrillii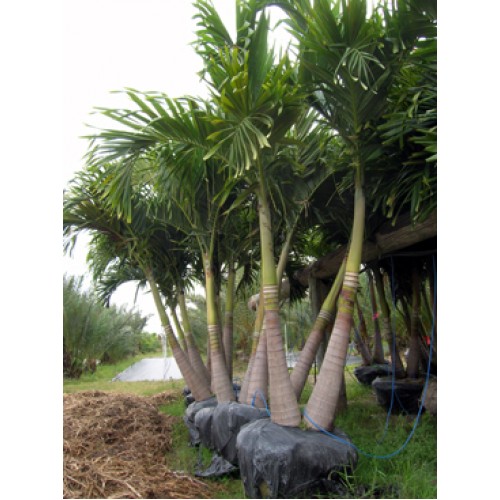 The scientific name of the C
hristmas Palm is Adonidia merrillii.
This particular tree is popularly used by professionals of landscaping in Southern Florida. It is, however, identified by various names with the most common one being the Manila Palm. This name is based on the fact that the tree is originally from Philippines.
The tree is also known as a Dwarf Royal Palm. This is because it takes the shape of the Royal Palm with the only difference being that it is considerably smaller. Other names include Adonidia Palm, Kerpis Palm, and Veitichia Palm.
A Quality Plant is a company which deals in the wholesale delivery of the Christmas Tree and over 20 other types of palm trees throughout the United States to licensed and permitted job sites. Bamboo and any palm tree is a welcome addition to a landscaping project.
At A Quality Plant, we possess the knowledge and the skill required to deliver viable plants that will add a touch of life to your next landscaping project.
Have you wondered why it is called a Christmas Palm?
Simple, it is because of its flowers and fruits. During summer, light green flowers grow on the Adonidia Palm, and they turn into a creamy-colored blossom. In December, these blossoms are transformed into oval-shaped fruits. These green fruits turn bright red as they grow ripe.
Most times, the fruits are ready to eat just around the Christmas holidays. The clusters resemble Christmas tree ornaments, hence the common name. The Christmas Tree has fronds which look like feathers, and they give it a rich green appearance which is particularly pleasant when planted in clusters of two or three.
This palm cannot survive the cold weather of Florida despite being associated with a cold season (Christmas.) It barely withstands temperatures as low as 30 degrees Fahrenheit and is not tolerant of frost. The ideal temperature for this palm is somewhere above 40 degrees Fahrenheit, and zones 10B-11 offer the most suitable conditions. Most of The Christmas Palms grow to a height of 20 feet and can be used to enhance the appearance of a yard or the interior of a house.
Many of the other palm trees bear fruits. Some of them possess a heart (hearts of palm) which can be eaten. However, the tree dies after the heart is eaten and eating the fruits is a more eco-friendly approach.
Below is a list of a few palm trees that also bear fruit:
Areca Palm - This palm produces small edible nuts which are actually considered fruits. They are called betel nuts.
Green Malayan and Maypan- Coconuts are born from these palms. These fruits produce coconut oil which has plenty of industrial and domestic uses.
The Queen Palm - The Queen Palm produces fruits which look like dates, but with some aspects of a coconut. Its taste, however, is like a combination of a plum and a banana.
Senegal Date Palm (Reclinata). This specific palm produces small dates.
At A Quality Plant , we have The Christmas Tree Palm and other types of palms. We deliver them to any part of the United States. Call 239-283-1329 for more information and for wholesale pricing details.