Buy Sylvester palms in Orlando, Florida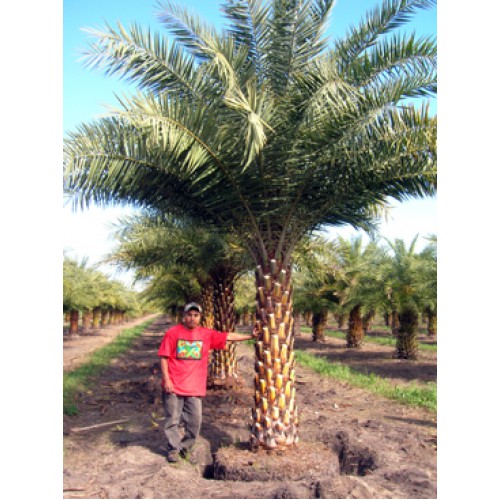 Who doesn't want a beautifully landscaped yard in front of their homes? There are a lot of ideas you can use to landscape your yard. For an elegant look, you can use a minimalist look or you can go for a jungle look or even a densely populated garden look depending on your preference.
Whether you go for a minimalist look or a full tropical garden look, planting palm trees in your yard is a great idea. Palm trees have been planted by the man since ancient times. The species of palms is as diverse as 2500 variants. There are a variety of palms available for planting in Florida. But if you want to buy a palm that is elegant and low maintenance, you should buy Sylvester palms in Orlando, Florida or buy silver date palm trees in Orlando, Florida. These plants are tall, elegant and beautiful.
Sylvester Palm tree is a variant of Silver Date Palm tree. This tree is a fast growing ornamental tree. The scientific name of the Silver date palm is Phoenix Sylvestris. These palms are native to Asian Countries like India, Pakistan, Bhutan and Sri Lanka. The tree grows up to a height of 15 meters. These palms are very rarely cultivated in Florida.
We sell the best quality Sylvester Palm Trees and Silver Date Palms.
If you want to give your garden an elegant silvery look, buy silver date palm in Orlando, Florida. The silver date palm trees also go by the name of wild dates, Toddy palms, and Sylvester palms. The tree has a slender trunk and beautiful silvery gray leaves. The color of its leaves gives it an elegant look.
The best reason to buy Sylvester palms in Orlando, Florida is its low maintenance. These plants don't require much of watering or fertilizers. They can survive in drought like conditions too. So, there is no need for you to spend an enormous amount of water in flourishing your garden. Sylvester Palms are the best buy for those conscious of water conservation.
You can buy Silver Date Palm trees in Orlando, Florida and plant them near your pool or in your garden. They will make your garden or yard look dreamy and beautiful. Just a little amount of fertilizers and water will help the tree to grow. It is a fast-growing tree. So, in a very little time, you will have a tall and beautiful silver tree standing gracefully in your garden or alongside your pool.
Another reason to buy Sylvester palms in Orlando, Florida is its unusual color of leaves. The silver color of leaves gives it a beautiful and ornamental look. It would stand in contrast to the other green trees in your garden. The silver palms will look like a piece of silver jewelry on a lush green garden.
You can also go for a complete silver look for your garden. Just buy silver palm trees in Orlando, Florida and plant only these trees in your garden or yard. Imagine how spectacular your garden will look in the all silver beauty.
Buy Sylvester palms in Orlando, Florida and use them as a centerpiece in your garden or on the poolside or as fencing near your property or either side of the gate.