Buy Sylvester Palms In Clearwater Florida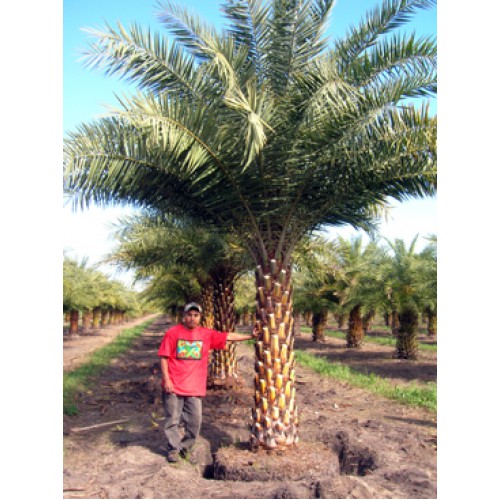 Palm trees, tall graceful, their feathery fronds evoking all that is graceful, elegant and luxurious in Mother Nature. If you are looking to create a classic luxury landscape, it is hard to go past the majestic Sylvester Palm (phoenix sylvestris). East to care for and cold hardy, Sylvester Palms are perfect for adorning poolside plantings, as feature trees in your courtyard, for framing your front entry or clustered around your lawn. Lit by subtle up-lights, your Sylvester Palms look fabulous at night and upgrade any landscape context. So if you like to discover the delights of Sylvestris Palm,buy your Sylvestris Palms for your Clearwater, Florida property from A Quality Plant.
Why Landscape With Sylvestris Palms?
Gardeners around the world love palms for their delicate,feathery fronds. Originally a native of India the graceful Sylvestris Palm can now be found throughout the world gracing the grounds of luxury homes, hotels and golf courses.
Commonly referred to as the Wild Date Palm or the Silver Date Palm the Sylvester Date Palm's large greenish-silver fronds lend a majestic atmosphere to any landscape. When sensitively pruned the Sylvester Date Palm has a highly decorative diamond shaped pattern down its trunk.
Perfect Landscaping Statements
Sylvester Date Palms are luxury statement plants that provide a highlight for any landscaping plan. Large, graceful and elegant, these palms are magnificent when set in the right environment. Your Sylvester Date Palm will not only look beautiful but can be relied on to withstand cold freezes and occasional droughts.
Create your own serene oasis in your compound while increasing your property value. We all know beautifully landscaped gardens not only help your property sell quicker when the time comes, but adds to its allure. In Florida, a garden without a planting of its iconic palm trees is just not complete. Grace your landscape with a Sylvester Date Palm and bring a taste of the exotic tropics to your door. After all, this is a state with a palm as its official state tree and the best place so where better to buy Sylvester Palms than in Clearwater, Florida.
Clearwater Florida, Home of the Sylvester Date Palm
Florida, America's Sunshine State', enjoys a beautiful climate perfect for growing delightful tropical natives such as the Sylvester Date Palm. Warm, humid summers eventually make way to relatively mild winters, making Florida the perfect palm nursery. Like many coastal regions, Florida is renowned for its world-class palms and lush landscapes. These graceful palms, lovingly tended by A Quality Plant evoke Florida's relaxed beach side lifestyle and are the perfect place to buy Phoenix Sylvestris Palm trees in Clearwater, Florida.
On those long hot summer days when the temperatures are high, relaxing under the waving fronds of a Sylvester Date Palm is a great way to enjoy your evenings.
The Phoenix Sylvestris palm is highly versatile. For the most spectacular impact, cluster them in clumps of three or more in staggered heights. Bring out their evocative shapes at night with strategically placed lighting.
While naturally drought tolerant Phoenix Sylvestris palms do best with regular watering and feeding. A Quality Plant recommends you select a fertilizer containing trace amounts of potassium, as they are prone to be deficient in this mineral.