Buy Sylvester Palms in Orlando, Florida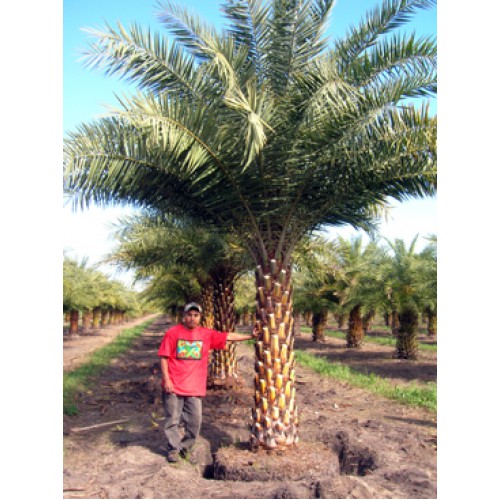 How often have you looked for a way to spruce up your backyard space? Wouldn't it be great to walk out the backdoor and be able to invite friends to a tropical paradise right at home? Why not plant some palm trees? Yes, you heard correctly, growing a palm tree is a creative way to use your yard space while also impressing your friends and family at barbecues, parties, and a variety of events. Come to A Quality Plant and buy Sylvester Palms in Orlando, Florida. We are a Florida wholesale palm tree farm that offers hedging and landscape plants for people looking for great solutions to utilize their space.
The Sylvester Palm Tree (Phoenix sylvestris) is often confused with the Canary Palm Tree, however, the Sylvester Palm gives the pristine look of the Canary Palm but it occupies less space and has a more slender trunk than the Canary Palm. Moreover, Sylvester Palms produce edible fruits that are known for their sweetness and the trees are also tolerant of drought conditions and moderate salt which allows for survival in harsher circumstances. It may take some time, but Sylvester Palms can grow up to 40 feet and they linger closer to the ground while young. The good news is that the Sylvester Palm can be included as a centerpiece for your garden bed or simply as an accent to your yard.
Planting and growing Sylvester Palms may seem like a challenge but with some prior research, it will become a great experience. First, ensure you have the proper amount of space for the tree to grow comfortably and spread its extending leaves, you will require a space that is at least 5 feet from the house, walkways, and driveways. After receiving the palm tree, either plant it immediately or keep its roots moist if there will be a decent time gap between purchase and planting.
When planting the tree, exercise caution because the bark is vulnerable and any damage can result in insects entering. The best time to plant the palm tree is in the warmer months, when the soil temperature is around 67 F. Dig a hole that is twice as wide as what its roots occupy and its depth should be consistent with the depth it previously grew up in. Adding certain fungi could be beneficial to the tree's growth and build a soil dam around the hole to hold in the water with a layer of mulch of 2-3 inches around it. Brace your tree before storms and the most crucial part is always watering it; initially, frequent watering is required (around 2 weeks) and gradually decrease the amount by allowing a hose to soak the tree area continuously.
A Quality Plant can supply you the palm tree companion of a lifetime from their extensive collection of different species. Buy a Sylvester Palm in Orlando, Florida and have A Quality Plant send the tree just about anywhere in the world. We have Sylvester Palms, Date Palms, Bismarck Palms, and many more to choose from. Remember to check whether you have the space and ideal growing environment for your palm tree before purchase. For more information and to order, explore our website and find the quality plant that will have your friends coming to admire all the time.