Buy Phoenix Sylvestris Palm Trees in Orlando, Florida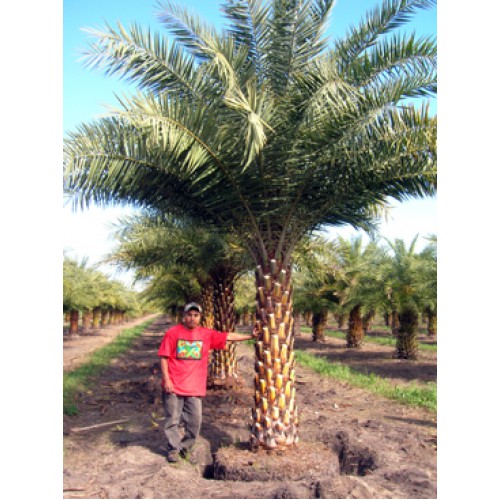 The word phoenix directly translates to the world purple' whereas the world sylvestris literally means wild'. This tree is known by a variety of different names such as Toddy Palm, India Date Palm and Silver Date Palm. You will find the Phoenix Sylvestris palm trees in low vegetation fields and within shrubbery. This type of plant is not only for aesthetic purposes. In India the tree sap is used to make palm jaggery. In addition, the leaves can be used to make bags and hats.
The tree itself is native to the South Asian countries of India and Pakistan. There are regions in both countries with dry, hot weather, perfect for the plant. In some countries alcohol is made from the sugary fruit.
If you are looking to buy Phoenix Sylvestris Palm Trees in Orlando, Florida you have come to the right place. Our trees are beautiful,strong and healthy.
Phoenix Sylvestris Palm Appearance
Phoenix Sylvestris Palm Trees many similar features to the True Date Palm. It has a huge round trump with a strange pattern. The trunk is usually near 13 to 18 inches. 90-100 large leaves explode from the top of the trunk. Each leaf is 1- 1.5 feet long and 1-2 inches wide. The leaves are usually in clusters of 2 and 3.
Phoenix Sylvestris Palm Trees also produce small flowers between the leaves. Each flower also has an oval shaped nearby.
The plant is a cold palm tree which means it can tolerate extremely cold, dry temperatures down to approximately 15 degrees. However, when it comes to sun they need to have at least partial sun exposure.In best case scenarios the plant will have full sun exposure.
Phoenix Sylvestris Palm Trees Requires Little Water
Because it is suited to dry areas Phoenix Sylvestris Palm Trees only require light sun. The best thing for it is wet soil instead of drenched soil.
Palm Tree Care
Once you buy Phoenix Sylvestris Palm Trees in Orlando, Florida the you need to take care of each of the trees. When you plant the trees you need to add humus or plant soil. You only need to fertilize your tree three times a year, instead of every month. Although the plants are suited to dry, hot weather, they still need some sort of water during a dry spell. You can choose to water the plants or create an irrigation system round the plants.
When you plant your Phoenix Sylvestris Palm Trees make sure you plant them at least five feet away from your home, the sidewalk and your driveway. If you are planting more than one, be sure to plant them around five feet apart also. Once your tree is planted, you need to trim its leaves every so often to remove dead leaves. You could do it each time you use a fertilizer. This tree is used mostly to add character to a large, wide lawn. Many people tend to place it near a corner or on the property line of their house as a stand alone accent piece of their garden. You can even plant smaller plants around the base of the tree to add character and color.