Bradenton Palm Tree Wholesale Farm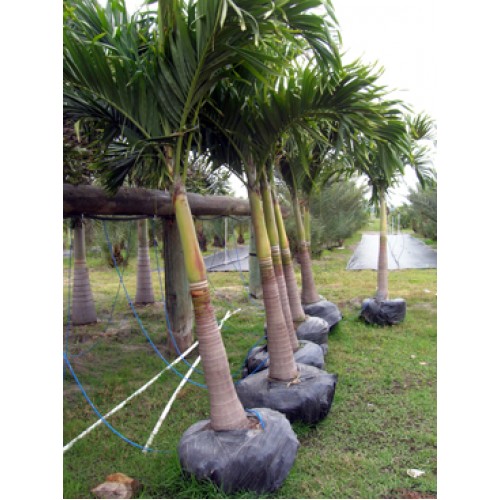 Palm trees produces great landscaping appearances. What does it look like to have a beach like look in your backyard with palm trees dotting the garden? It's so beautiful, right? If you're looking for a reliable wholesale palm supplier, A Quality Plant is your top choice. At our Bradenton palm tree wholesale farm we have top quality trees to meet your commercial landscaping needs.
We operate out of Florida and serve customers across the USA.
Here's is a preview of what you can expect to find in our palm tree varieties for sale:
Wholesale Bismarck Palm Tree, Bradenton
With its fan-shapped leaves, this palm variety is fast growing. It reaches a height of 15 ft up from 3 ft in just 5 years. Bismarck has a beautiful shape that can boost the appearance of any garden. It's good for aesthetic as well as garden screening purposes.
This palm tree can tolerate cold temperatures. It can thrive in most states including California, Arizona, Texas, Alabama, and Mississippi among others. Contact us today for wholesale palm trees in Florida. Bismarck palm trees are moderately drought resistant. They are low maintenance trees making them suitable to grow anywhere.
Wholesale Queen Palm Tree, Bradenton
This type of palm trees has feather-shaped leaves. It's ability to tolerate low temperatures reaching 15F makes Queen palm trees grow well in tropical as well as subtropical climates. Under proper management, it can grow up to 40 ft tall and 10 ft wide.
It is fast growing and requires moderate watering when young. Queen palm tree does well both indoors and outdoors. Bradenton palm tree wholesale farm is home to healthy queen palm trees you can get in Florida State.
At A Quality Plant, we're always busy in our palm tree nurseries to ensure we meet the ever-growing demand for premium quality wholesale palms. Our palm trees are carefully selected and raised under controlled conditions to produce healthy seedlings.
Commercial landscapers and gardeners will find in us a truly reliable Florida wholesale palm trees grower. We sell and ship our palm trees to your location around the US. A Quality Plant is committed to giving you wholesale palms at competitive prices.
Give us a call today and order your favorite palm trees for your customers. For more information or to order contact us any time. We will ship your order quick enough. Our aim is to meet your needs all the time. We look forward to serving you.